The Survivor-Centered Advocacy Project (SCA Project) was developed under a deliberate vision for "research justice" that seeks to:
Explicitly address the imbalances of power and privilege in traditional research relationships and dominant positivist frameworks determining what counts as "legitimate"knowledge production
Operate from a strengths-based perspective that recognizes the assets that exist in all individuals and communities
Honor and center the voices and lived experiences of impacted communities as adding critical and diverse voices to knowledge production
Pursue engaged social justice scholarship in such a way that will ultimately benefit the lived experiences of our communities
These reports make recommendations for those wishing to do a CBPR project that holds historically marginalized communities at the center; and/or those attempting to align or deepen their practices according to what works for survivors from historically marginalized communities.
By Sikh Family Center
This report, prepared by Sikh Family Center, compiles the qualitative data from 2 focus groups and 3 individual storytelling interviews facilitated by SFC in the Bay Area, California between November 2016 and January 2017. These groups and interviews consisted of survivors of gender-based violence, specifically family violence, as well as community members who regularly work (formally or informally) with survivors of violence.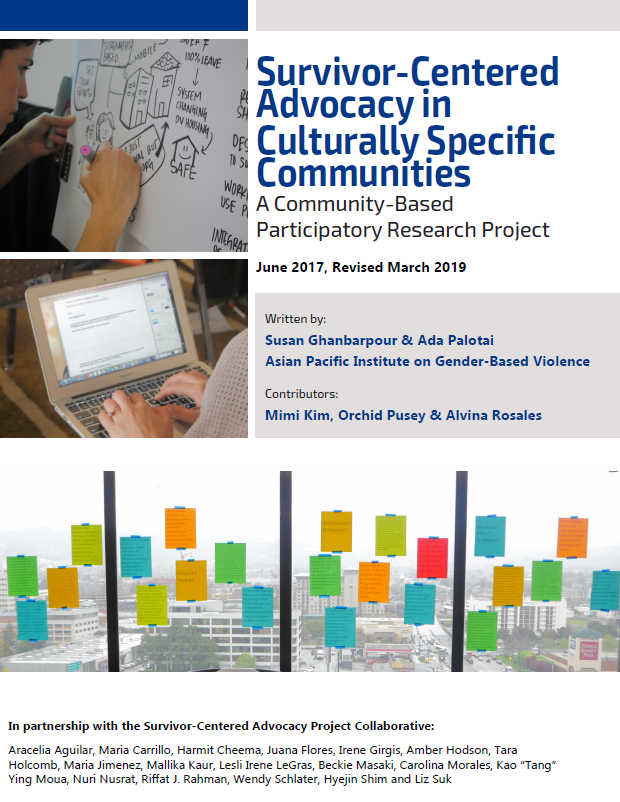 Asian Pacific Institute on Gender-Based Violence
June 2017; Revised March 2019
Defensoría centrada en sobreviviente en comunidades culturalmente especificas: un proyecto de investigación participativa basado en la comunidad