Community-Based Participatory Research
Community Based Participatory Research (CBPR) is described as "inquiry with the participation of those affected by an issue for the purpose of education and action for effecting change."

Green LW, George MA, Daniel M, et al. Study of Participatory Research in Health Promotion: Review and Recommendations for the Development of Participatory Research in Health Promotion in Canada. Vancouver, British Columbia: Royal Society of Canada; 1995:4.
Survivor-Centered Advocacy Project (SCA)
SCA was a community-based participatory research (CBPR) project funded by the Blue Shield of California Foundation. SCA brought together eighteen culturally specific DV practitioners from historically marginalized communities to co-generate knowledge around the meaning and practice of survivor-centered advocacy in these communities. A subset of five teams also designed and executed a CBPR research project in their own communities. SCA honored and centered the voices and lived experiences of impacted communities, while building their capacity for doing community-led research, and generated findings about culturally specific survivor-centered advocacy that are a significant contribution to the field.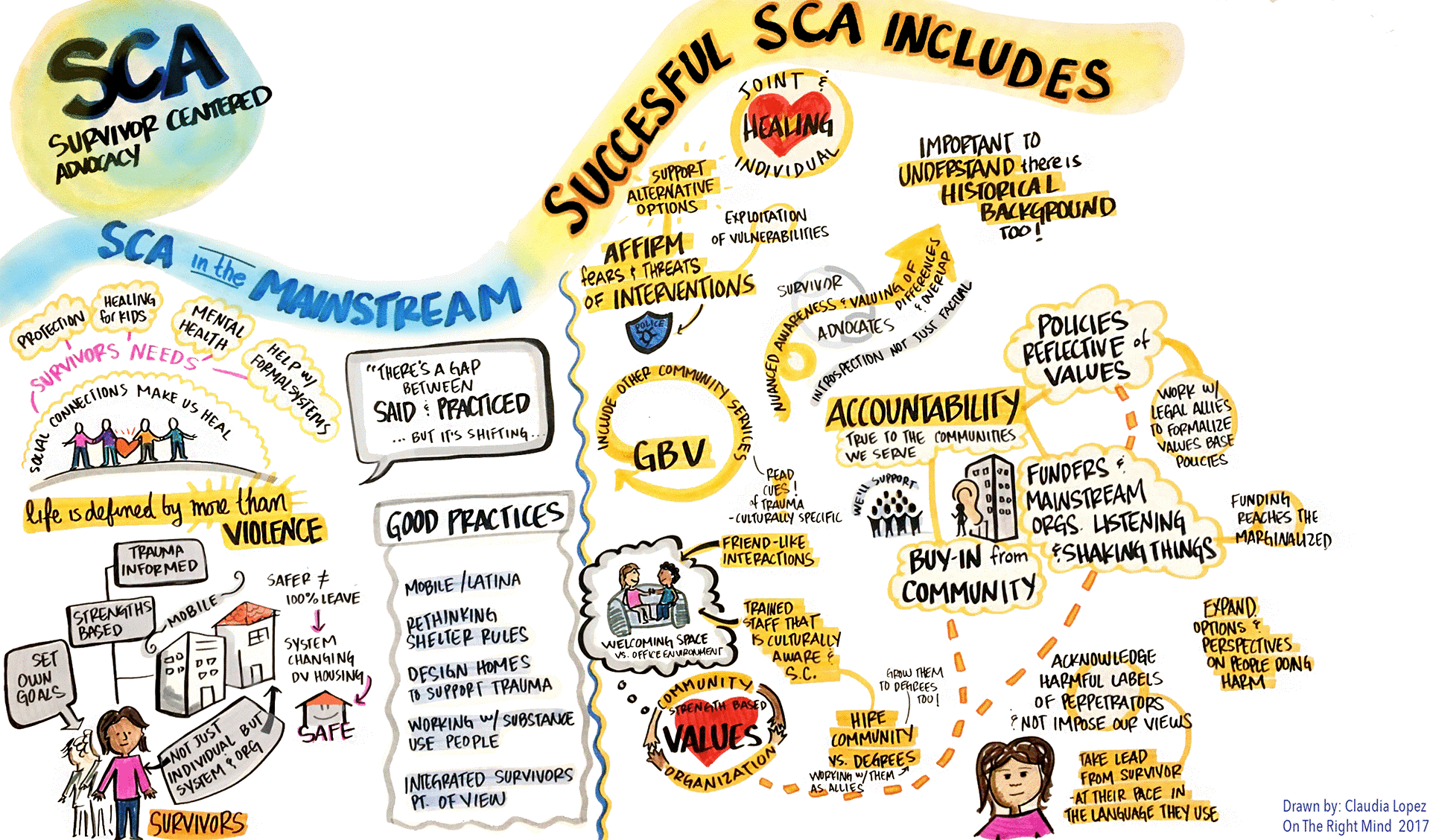 Download the Survivor Centered Advocacy reports below to learn about the project and the field research teams.
Susan Ghanbarpour, Ada Palotai, Mimi E. Kim, Aracelia Aguilar, Juana Flores, Amber Hodson, Tara Holcomb, Maria Jimenez, Mallika Kaur, Orchid Pusey, Alvina Rosales, Wendy Schlater & Hyejin Shim
This case study discusses the Survivor-Centered Advocacy Project, a community-based participatory research project that convened anti-violence advocates from culturally specific communities to design and implement research. The project used a unique approach to build grassroots research capacity and center survivors of intimate partner violence from historically marginalized communities. This approach coalesced into the creation of an exploratory Community-Led Research (CLR) framework that incorporated trauma-informed, research justice and language justice principles. The CLR framework responded to community members' desire to lead, rather than simply participate in, the research process. As a result, five studies were designed and executed by practitioners turned community-based researchers, most of whom had never before engaged in research, except as subjects. The CLR framework integrated the skills and experiences of community-based and external researchers, and led to high levels of engagement, rich data, more equitable research processes and innovative research projects.